Middle Level Choir Clinician
2021-22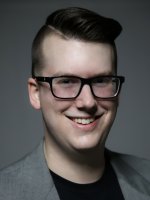 Blake Richter
Blake Richter is a middle school choir director in his hometown of Nixa, Missouri. Blake holds a Masters of Science in Educational Administration and a Bachelor of Music Education from Missouri State University, where he studied with Guy B. Webb and Cameron F. LaBarr.
Blake directs over 200 seventh and eighth grade students in his various ensembles at Nixa Junior High. Blake's choirs have been selected to perform at the Missouri Music Educators Association Conference multiple times. Blake also serves as the Vocal Director for the Nixa High School Theatre Department. In 2017, Blake was named one of Missouri's 32 Regional Teachers of the Year, in 2019, Blake was awarded the Prelude Award from the Missouri Choral Directors Association for demonstrating exemplary work as a young choral professional, and in 2020, Blake was named a Semifinalist for the GRAMMY Music Educator Award.
In his spare time, Blake runs his Blake Richter Productions business which specializes in video production, audio engineering, photography, and music composition. Blake uses his passion for videography to create fun, engaging videos for his students and the school district. His videos have most recently received awards including the 2019 Missouri Schoolwide Positive Behavior Support Video of the Year, 2017 National PBIS Film of the Year, and have been recognized by The Tonight Show Starring Jimmy Fallon.