Middle Level Band Clinician
2020-21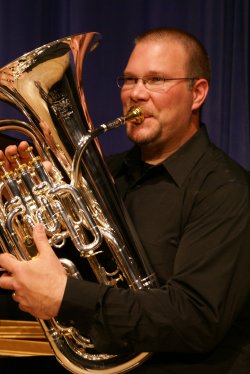 Nathan Gay
Nathan Gay is currently Director of Athletic Bands at Missouri Western State University. He is one of the new forces in euphonium performance and has won honors at the most prestigious solo and chamber competitions including the Ern Keller Memorial International Soloist Competition, Leonard Falcone International Solo Euphonium Competition, Music Teacher's National Association National Solo Brass Competition, North American Brass Band Association Solo Competition, U.S. Open Brass Band Championships Solo, and the International Tuba-Euphonium Conference Quartet Competition, to name a few.
Gay completed graduate work at the University of Missouri – Kansas City Conservatory of Music and Dance and undergraduate work at Missouri State University. He also performs with the Fountain City Brass Band, is an active soloist and clinician, and is in high demand as a studio instructor. Gay has also taught in the public school system and has a strong commitment to music education and young students. He often performs and works with public school programs.
Nathan Gay is a Buffet Group USA Artist performing on a Besson euphonium.